The Orange City Fire station has served the community well for over 40 years. Why is a fire station expansion needed? It is noticeable that fire trucks have grown significantly in size since the current station was built in 1973. What isn't always noticeable to the public is the growing need for training space, health and safety concerns, the increased amount of equipment to be stored, and the expanded room required for vehicle maintenance that have emerged through the years.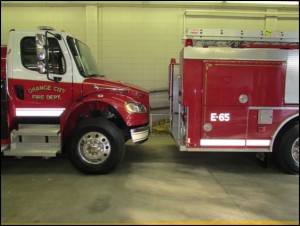 Training has always been an important to the OCFD. Within recent years the state of Iowa set a requirement that every member of the fire department must receive 24 hours of training a year. This includes both classroom-style and hands-on training with the equipment, which requires large areas to operate. In recent years, training has put considerable stress on the station size. Department members also train year round, winter and summer. This training can be physically demanding, especially in inclement weather (hot and cold); we never know when the next call will be so we can't wear out our firefighters in the heat and cold. Expanded, heated and air-conditioned training space would allow firefights to practice with all equipment year round.
With a current roster of 30 firefighters, space to safely put on their protective gear is essential. When a call comes in now, members are putting on their protective gear inches away from large trucks driving out of the station. Firefighters not only risk being struck by a moving truck but also are exposed to harmful exhaust. Large fire trucks have powerful diesel motors that discharge black soot into the air. Along with being bad for the firefighter's health, the soot also contaminates the protective fire gear. This result is less effective thermal protection and a shorter lifespan for the expensive gear. In the expanded station firefighters' protective gear will be stored in a separate room allowing firefighters to respond to call safely and providing a barrier from the truck exhaust.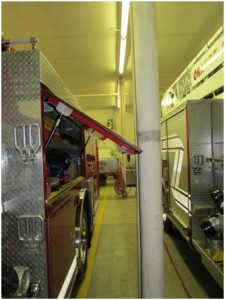 In the current station there is one unisex single-stall bathroom. This was sufficient when the station was built. The fire station now regularly hosts large group training sessions and meetings that span multiple hours. The demographics of today's firefighters includes both men and women. The expanded station would include properly sized men's and women's bathrooms that adhere to modern building codes, including ADA requirements. The expansion would also include a shower that would allow firefighters to wash contaminants off at the station, keeping toxins out of their homes.
The station now has four apparatus bays to hold six fire trucks: two bays are double-stacked with barely with enough room for a person to move between the trucks. This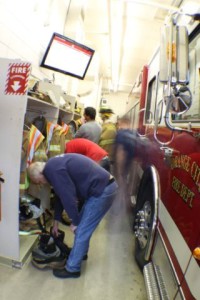 often means moving the "forward" trucks out of the way to respond to calls, which costs precious time. The two additional truck bays proposed for the expansion will position each truck in its own bay and allow more space for larger, newer-model trucks. This in turn will improve response time. The OCFD performs many of the routine maintenance on apparatus, which require extra room to complete these tasks effectively. A seventh bay will provide room for storage, training activities, and maintenance work.
In short, the fire station update and expansion will help the OCFD will help meet the community's current and future need for well-prepared, safe, and timely emergency response.